To the fabulous felines that have called us their humans!! Our cats live a very long time, mainly because they are always inside and protected. Plus the health plan at our house is exceptional and includes dental. Eye care, however, is optional. We have been privileged to have had some amazing cats over the last twenty years and each one came with their own unique personality!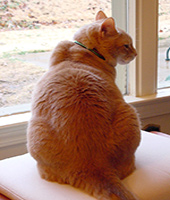 Buster, a.k.a. Gus
Meet Buster, a.k.a. Gus. We often pretended he was a big, yellow dog but he never acknowledged us when we called. Buster was a grown-up, scruffy overweight only cat. He always threatened to pack a bag if we brought one more cat into our house (our limit was six) but since he didn't do outside, decided to stay. Nothing better then your own couch and heated blankets. Buster always thought questions were best asked and answered with a nap. We lost our funny cat to old age but we forever miss the jingle of his bell whenever his persons came home or it was time to eat. And there was always a nap in his favorite person's lap and very loud purr . . .
Chester
What can you say about Chester? He was not a finicky cat, didn't complain much and had huge green eyes. Chester was somewhat adventurous and would jump to the top of any structure in the room, top of the door, top of the fridge. He spent the majority of his time following our big black and white cat, Sam, around. She was the great love of his life and hope sprang eternal. Alas, it was not to be but annoying as he was, the two could always be found in a window enjoying the morning sun. And she certainly missed him when he wasn't around!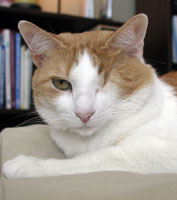 Sassi, a.k.a. Princess
Sassi (actually Princess Sassi) ruled all in our house. Everyone was under a constant watchful eye by our own personal homeland security for over 16 years and we certainly always felt safe! Sassi was adopted from the Fayette County Animal Rescue after being in an abusive situation. She was absolutely perfect to us and to all the other inhabitants in the house. We are so glad she chose us for her forever home and we will always be glad she was here to keep watch over us!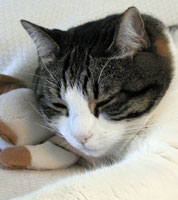 Samantha
Meet Samantha, a.k.a. Sam. She was such a lady and the sweetest cat ever! We adopted Sam as an adult (she actually is Winston's mom) and we are so very glad we made that decision. When you adopt an adult cat, they've had all their shots and they're spayed/ neutered (the right thing to do!). Sam was always a happy girl and absolutely forever the object of Chester's affections. Sam also was Sassi's BFF and those two could always be found snuggled in a chair or curled up on a heated pillow. It is indeed a lonely house without them!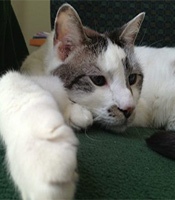 Winston
Winston, best Kitty ever! We had Winston for 18 years and he loved every moment of his life!! The house became so empty without him and it took us a long time to not be listening for his constant meow in the middle of the night if he didn't see us or to stop turning on the water in the sinks while waiting for him to jump up and drink. He was always ready to play with his favorite catnip toys or persons or chase his ball around the bedroom. Winston brought so much joy and happiness to every day and we are so glad he adopted us!